German Baptist Brethren Church in Utah
Some times called Dunkards and now know as the Church of the Brethren
Bear River Valley
1901 - 1903
Through this web site I have endeavored to give historical information on the only church that was organized in the Utah.
There has never been a history written, a listing in any history book or in the Brethren Encyclopedia about this church. There are only about 9 article that were sent into the The Gospel Messenger between 1898 to 1902 that showed that this church ever existed. .
<![if !vml]>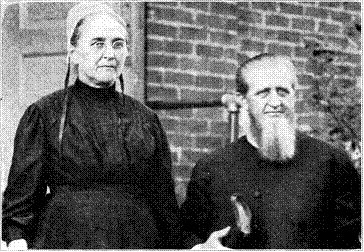 <![endif]>
David S Filbrun and wife Sarah Ellen
The only minister of the Bear River Valley Church after the church was organized
Thirty-three years of Missions. By Galen B Royer 1913 Page 243
Mission in Utah
As early as 1895 calls came before the Board, asking for missionary to be sent into certain parts of Utah, but no until June 3, 1900, did the Board move in answering them. At this time David S. Filbrun, of Oho, was chosen to locate in Utah and start a mission. Evidently he wished to know something on location and so on, for at the following meeting, in October, the Board instructed him to push the work with all vigor, that he would be supported financially, and that many questions that would arise must be left to his judgment. Bro. Filbrun located north of Salt Lake City and began work, In the course of a little over a year or s, it was evident at the time was inopportune for other than a long, protracted effort to establish a successful mission, and at the meeting on February 11, 1902, the mission was discontinued.
May 19, 1900 page 316 The Gospel Messenger
Bear River Valley. – I am at present sojourning in the Bear River Valley, Utah. There are altogether eighteen members in this valley. They very much desire a minister to locate among them to break to them the Words of life. Elder Lemuel Hillery was recently visiting among them and doing some preaching. It is to be hoped that Brethren will come and occupy at least a part of this health-giving and productive valley, and thus be the means of spreading the borders of Zion and living out the principles of the Gospel among the people here. The crop prospects are very promising in every way this season. C. M. Weybright, Bear River City, Utah, May 6.
The Gospel Messenger, Feb. 2, 1901 page 77
Corinne. – The Bear River Valley church was organized to-day with eighteen members. The first council meeting was held at the residence of the Officiating elder, D. S. Filbrun. Letters were presented and read. It was unanimously agreed to organize. The officers were duly elected as follows: Bro. I. J. Filbrun clerk, Bro. Samuel Yoder, Jr., church solicitor, Sister D. S. Filbrun treasurer, Sister May Yoder corresponding secretary. Our official board consists of one minister, Eld. D. S. Filbrun, and one deacon, Bro. A. S. Yoder. We feel the great responsibility resting on us. Brethren, pray that God's blessings may rest on this little organization in the State of Utah, this being the first Brethren church in this State. – May Yoder, Jan. 18.
The Gospel Messenger, June 19, 1901 page 413
Corinne. – The first baptism ever performed in the State of Utah by the Brethren was administered yesterday in the Bear River, near the town of Corinne. We rejoiced at her coming, as did also the angels in heaven. Her conversion may be attributed to the reading of the Gospel Messenger as much as to our preaching. Why cannot more of our members, when done with the Messenger, hand it to some one else? This sister just received into church membership, said to me: "I sent a roll of Messenger to my parents in Nebraska. I think it will be quite beneficial to them, perhaps bring them into the church. " – D. S. Filbrun, June 17.
Known members in this church are as follows.
For more information about the member please E-mail me (Dennis) at orwahist@aol.com
BRUBAKER, Joseph L & wife Mary Ann (Joseph died before the church was organized, he was a minister in the church)
BRUBAKER, Annie MERRILL (wife of Henry S)
FILBRUN, David S & wife Sarah Ellen (Minister)
FILBRUN, I. J.
RADER, Elizabeth Ann OGDEN
YODER, Samuel W & wife Hazel Etta
YODER, Absalom S
There were at least two other families that belong to the German Baptist Brethren Church, but move away
before the Bear Valley church was organized)
BEERY, Salem & wife Asenath
MILLER, Douglas & wife Ida
Please report any broken links to the e-mail address below.
---
Some other Church of the Brethren links.
OR/WA
Link to the Oregon and Washington Church of the Brethren Historical site
S DAK.
Link to Brethren churches that were organized in South Dakota
Newspapers
Link to Obituary index of the German Baptist Brethren (Church of the Brethren) Newspapers
Almanac's
Brethren Almanac's
E-Mail
Please E-mail your comments or questions to

orwahist

@aol.com (Dennis Roth)Thank you.
Link
Link to COB Fellowship of Brethren Genealogists
All rights reserved - May not be mass-produced or used in any form for commercial purposes.